Ring in 2023 AIoT Digital Transformation Trend Conference
DATE:

2022/03/24 09:30-17:00

Location:

NEXCOM Headquarter Auditorium (9F, No.920, Zhongzheng Rd., Zhonghe Dist., New Taipei City, Taiwan (R.O.C.))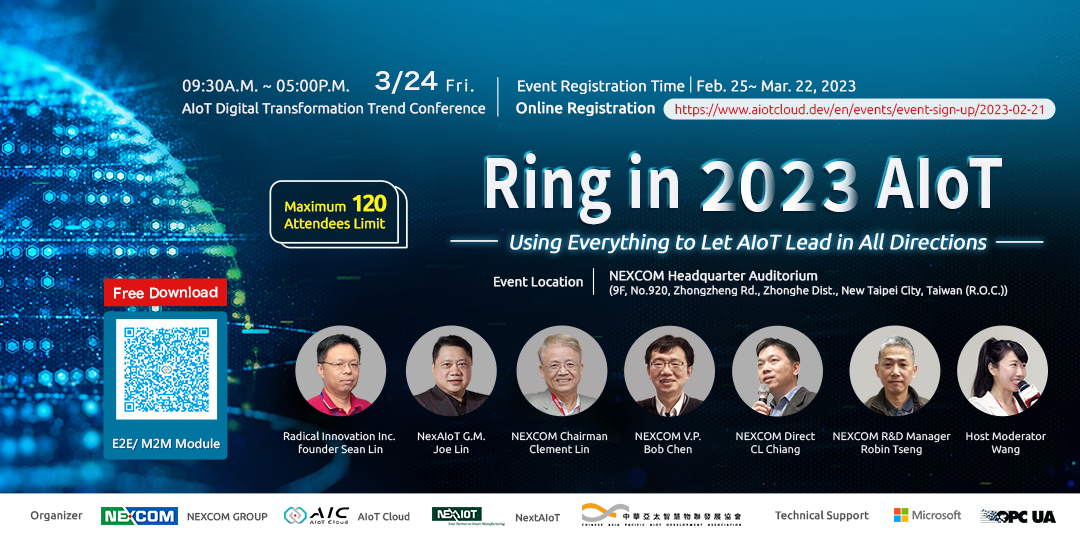 Event Title:Ring in 2023 AIoT Digital Transformation Trend Conference
Event Registration Time:Feb. 25~ Mar. 22, 2023 (Maximum 120 Attendees Limit)
Event Check-in Time:09:30 ~ 10:00A.M. Friday, Mar. 24th, 2023
Event Time:10:00A.M. ~ 05:00P.M. Friday, Mar. 24th, 2023
Event TA:For Those Entrepreneurs, Factory Owners Who Value AI, Smart Manufacturing and Digital Transformation.
Event Location:NEXCOM Headquarter Auditorium (9F, No.920, Zhongzheng Rd., Zhonghe Dist., New Taipei City, Taiwan (R.O.C.))
How to Register:Online Registration
Event Topic:Using Everything to Let AIoT Lead in All Directions
Event Goal:
Ring in 2023 new trend of digital transformation. While we open the door to E2E/ M2M of IIoT, we invite different aspects of experts from AI, IoT, smart manufacturing and digital transformation to talk about the strategic development of industrial upgrading acceleration and practical implementation suggestions.
The full name of IoT Cloud AIC is AIoT Cloud, which refers to the IoT developer community platform that is connected to technical applications such as Artificial Intelligence + IoT + Cloud. The goal of AIC is to build an open network platform for a global network ecosystem in order to fulfill the following specific methods:
Accelerate the decentralization and development of IoT development solutions with free downloads of E2E/ M2M module, gradually improve website and increase software and hardware solutions that can be re-developed.
Difficult and complex modular packaging of IoT and control engineering, developers can focus on IoT and industrial applications easily.
The website provides certification service, certifying the quality and compatibility of members' secondary developed software and hardware. Once certified, depending on the developer, their product can be downloaded for free or for a fee.
Open various webinars of technology and entrepreneurship to help members improve their technical and operational capabilities.
Match developers and those who seek solutions, effectively matching supply and demand for the website.
Build the website into a network ecosystem of co-creation, sharing and co-operation of IoT solutions.
We provide a fast and convenient IoT ecosystem platform for entrepreneurs. All variety of factories could proceed IIoT E2E/ M2M application software implementation based on their own existing factory facilities upgrading. We expect to accelerate all industry implementing smart manufacturing or AIoT digital transformation application techniques. Regarding this event, we provide free IoT software with permanent license and real-machine teaching. Please visit our website https://www.aiotcloud.dev/en/community-version for three permanent free version of Community download.
The registration for the event is now full. Thank you for your support!