NEXCOM IoT Studio Software Tool Download to Accelerate IoT Innovation
Source:NEXCOM
In order to accelerate the innovation of Internet of Things (IoT), NEXCOM opens the NEXCOM IoT Studio networking software tool for free download, allowing developers to complete the connection setup without writing complicated code, in the hope of promoting IoT applications. The tool uses a web-based interface and easy click-and-drag operations to shorten the development cycle and save on application deployment, from idea development and testing to prototype and large scale implementation.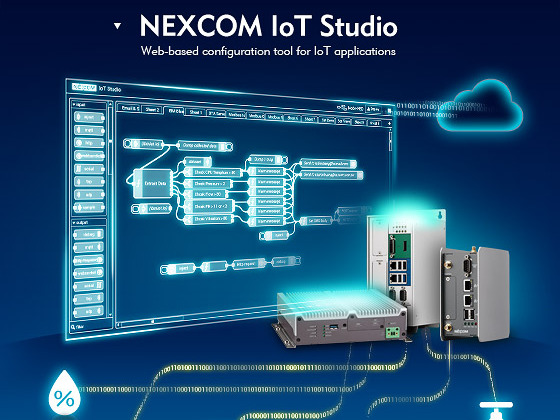 The Internet of Things (IoT) has infinite value and is still waiting to be explored," said Mr. Kai-Feng Peng, General Manager of IoT Business Unit of SHINHAN. To promote IoT creativity, SHINHAN has developed NEXCOM IoT Studio software tool. With the built-in functions, developers can instantly create their own application features with a simple click-and-drag process, eliminating the need to write thousands of lines of code by hand and simplifying the development process. Now, NEXCOM IoT Studio is available for free download, and we hope that it will inspire industries to invest in more IoT applications.

By simply installing the NEXCOM IoT Studio agent on the endpoint device, developers can connect to the NEXCOM IoT Studio console through a browser, combine the agent to retrieve data from the endpoint device, and directly develop IoT-related applications. The console provides a convenient and intuitive click-and-drag function, and actively lists the available data endpoints and various related functions, so that developers can decide which data to collect, how to process the data, and the settings of the data receiver according to the needs of IoT applications. Developers can also check the operation status of the device and modify the system settings through the web console, and monitor, change, and manage the endpoint device remotely to ensure the regular operation of the IoT application.

Using pre-integrated third-party cloud service application programming interfaces (APIs), developers can instantly connect endpoint devices to the cloud service platform and design contingency processing modes for different events to improve problem resolution time. In addition, the seamless connection with the cloud platform creates a cloud shortcut for developers, allowing them to freely specify the data transfer path, sending endpoint data to designated servers or cloud service platforms for storage or processing via intranets and extranets, eliminating the need to spend huge manpower and time on fixing API and development application compatibility issues, and using various cloud services through a unified access interface. As a result, developers can focus on the innovation of IoT applications instead of being tied to the complicated programming work.

NEXCOM IoT Studio supports a wide range of I/O interfaces, network standards, industrial communication interfaces, and IoT protocols to broaden the scope of NEXCOM IoT Studio applications. The potential applications of NEXCOM IoT Studio include real-time air quality index mapping for environmental monitoring, monitoring mechanical and electrical equipment for smart buildings, predictive maintenance for industrial automation, and tracking and managing shelves for smart retail.