NEXCOM wants to make Taiwan's smart manufacturing ecosystem take off
By陳逸格
14 Nov 2022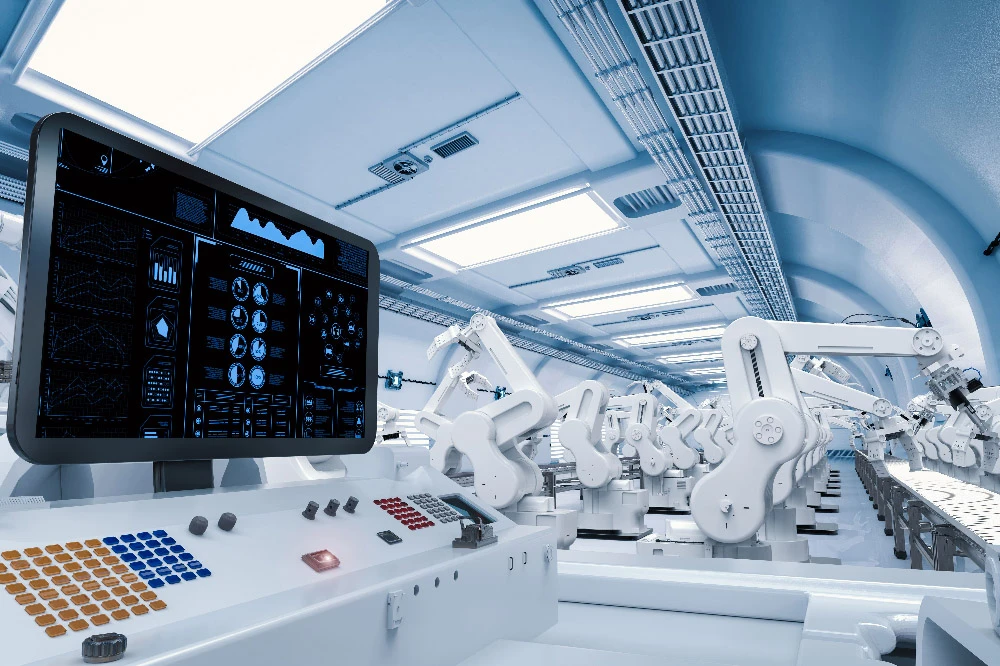 The trend of net-zero carbon emissions and ESG has brought more business opportunities in intelligence, digitization and cloud/edge computing, and the wave of demand has set off the historical wave of robotics "opening up standards and starting compatible industries so that different brands can connect with each other. The company's chairman, Mr. Clement Lin, announced that it would make Taiwan's smart machinery and smart manufacturing ecosystem really take off.
The value of Internet of Things and AIoT-related products is expected to exceed NT$2 trillion, and NEXCOM Group, a major industrial computer (IPC) manufacturer with this axis, has achieved its goal in 30 years. Clement Lin believes that Taiwan's smart manufacturing should move towards a unified open standard, so that the scale of the industry can be expanded to dozens or even hundreds of times, just like the establishment of consistent standards for computers and cell phones. In other words, open standards are the most cost effective and can drive innovation and even give birth to unicorns. It is worth mentioning that NEXCOM does not make robots, but develops controllers and related algorithms and components to help major robotics companies make complete ROBOT. The robotics companies and machine manufacturers on the table are all partners of NEXCOM, complementing each other; using open standard equipment to create a manual-free factory, and working together to form a smart manufacturing ecosystem.
At present, there are nearly 300 small and medium-sized enterprises using NEXCOM's open system/platform in Taiwan. NEXCOM is also seeking SI and downstream partners for secondary development, hoping to integrate robots and smart factories to create a complete ecosystem. Mr. Lin said, now the platform has been gradually adding new solutions, the initial completion of the smart manufacturing-related platform, so that not only NEXCOM affiliated companies, but also various industries and invisible champions to join, in order to expand to the whole Taiwan and the world. Mr. Lin hopes that one day, Taiwan will become a major exporter of unmanned/intelligent factories.
NEXCOM service does not imitate others
During the epidemic period of two to three years, NEXAIOT's Industry 4.0 project execution team has assisted customers to investigate the current operation of factories and evaluate the current level of factory automation, provide intelligent manufacturing consulting and planning services, and based on the iAT2000 cloud-based intelligent monitoring system solution, open up the two veins of OT and IT systems to build intelligent operation and management of manufacturing factories according to customers' different needs, and provide industrial 4.0 one-stop services (Turn-key). With rich experience in planning and implementation, iAT2000 has become the benchmark company in Taiwan for implementing smart manufacturing projects.
This is a strategic investment, and combined with the government's smart machinery promotion program, whenever there is a demand for digital transformation and smart manufacturing in the industry, people will think of NEXAIOT Intelligence by word of mouth," said General Manager Joe Lin.
In recent years, NEXAIOT has been developing project services for small and medium-sized enterprises in smart manufacturing on both sides of the Taiwan Strait and in Southeast Asia. With its self-developed iATT2000 cloud intelligence system, NEXCOM integrates different brands of products from home and abroad to upgrade enterprises to move into Industry 4.0. The company launched its products and solutions ten years ago with the goal of Industry 4.0, and has made a name for itself by entering the market earlier and not going for "me,too".
Digital Information Security TMR gate-keeping
Information security is national security, and the demand for digital transformation is increasing, and the information security market is also growing brightly. The company is the first information security company to receive the Digital Transformation Model Award from the National Development Council and the Electrical and Electronic Workers' Union, and is using eSAF's own brand to enter major semiconductor and smart machinery companies, and even to cooperate with national-level units. The government set up the Digital Industry Department, hoping that all OT and IT industries will be linked to information security; under government regulations, not only large companies, but also small and medium-sized enterprises should be introduced to information security. The next step is to launch products for small and medium-sized enterprises in order to expand the volume.
Looking ahead to the opportunities of Taiwan's information security industry, Lai Guanzhou believes that in addition to the increasing international demand, Taiwan has also listed information security as a national plan in the past three years, and now 5G and smart manufacturing are closely related to information security.
The company's parent company, NEXCOM, has been working on industrial computers for years, and it is important to understand the underlying machine equipment to do OT information security. We hope to give the industry the established impression that we are a native OT information security provider that understands the underlying OT equipment. In the future, we hope to provide eSAF products in eight major fields, including smart manufacturing, robotics and precision machinery, smart transportation and cities, and critical information infrastructure, to become the protector of information security in the industry.
NEXCOBOT make customization more effective
The open robot control system is the first innovation of NEXCOBOT, which is convenient for users with special applications to customize automation equipment, and was widely favored during the epidemic. The general manager of NEXCOBOT, Jenny Shen, said that in the past, most customers imported robots using the four robot family solutions, only to provide standard robot arms, but if there are special applications need to customize, the brand will charge high development costs, so turn to NEXCOBOT to discuss the controller application solutions. For example, customers doing resource recovery aluminum can sorting line need to combine with AI recognition to achieve better efficiency; using seven-axis dual-arm robot to pick up nuclear waste to avoid the danger of workers touching nuclear waste; customers in 3C industry want to develop human-computer collaboration robot, etc.
In robotics automation applications, many aspects need to be customized. Most of the customers import the products of Trimble for three reasons: First, the original robots are expensive to do customization. Second, customers have special application needs. Third, the user is unable to do the development of control software. Jenny Shen said, the advantage of NEXCOBOT is the open robot controller, providing key components of the robot system, from hardware to software series are self-developed, coupled with the strong support of the application technology team, in the introduction of the controller project services in place. During the project execution, we have encountered customers who have added application functions outside of the original plan. NEXCOBOT's team has not only developed many custom modules for customers, but has also been able to quickly assist customers in the timely implementation of their products. NEXCOBOT has been able to modularize and kit the most difficult core technologies, allowing robotics and intelligent machine manufacturers to develop new products easily and quickly.
AIC builds shared development platform
AIC is a newly established cloud-based development platform for the Industrial Internet of Things (IoT), which boasts painless development and provides users with free downloads of IoT software, and also welcomes participation from the community. The platform provides three sets of self-developed software, IoT Studio (Node-Red-based process editor), OPC UA (standard industrial communication interface), and VideoWall (enterprise war room that conforms to the Industry 4.0 Internet of Things framework), which integrate the bottom, middle, and upper layers of software architecture for those who need to upgrade IoT and digital transformation. It is not only free to download, but also allows users to use its interface for secondary development, providing an open software development and integration basis for the digital factory field.
Vice President Bob Chen introduced that the software is divided into free Community Edition and paid Standard Edition, Professional Edition and Enterprise Edition. The Community Edition has all the functions and can be used as the basis for secondary development, but it has a 14-day limitation, but after registration, it can be used forever. Whether you are a developer, brand owner or company, system integrator, or internal factory maintenance, you can download the community version for conceptual design and verification. If appropriate, you can purchase the full version online, or you can sell the second developed software on this platform (https://www.aiotcloud.dev/tw/).
AIC's R&D team is highly skilled and solid, with an average of more than 25 years of software development experience. "IoT Studio, OPC UA, and Video Wall have been on the market for many years and have been well received by the market. A major computer manufacturer is already discussing software customization and implementation of Video Wall and OPC UA, and has also been working with industry and government projects. In the future, free downloads of robotics-related technology platforms will be available, and more smart manufacturing, IT/OT information security, and AI platforms will be completed and made available for download. Bob Chen said that in the 30 years since its establishment, NEXCOM has witnessed the development process of Taiwan's industry. The only way to transform the IPC industry is to stand on the world trend, use software and establish a co-creation platform to work together, so that Taiwan's IPC industry can take the next step of innovation and development.
Greenbase Video Surveillance Technical Advantages
The company's video surveillance subsidiary, Greenbase, has benefited from the U.S.-China trade war, and has become the star of tomorrow by taking on small and multiple orders with the advantage of customization, and its business volume has increased greatly in recent years, and it is also moving towards its IPO target of 2024. General Manager Steve Yang said that Greenbase's main business model is to design and OEM for major European and American manufacturers, and its products are mainly network video platform-related products such as network cameras (Network Camera) and video management hardware platform (NVR), and other related applications. In terms of vertical applications and channels, we provide solutions for various applications, especially for smart transportation, smart terminals, and smart manufacturing with Industry 4.0.
It is worth mentioning that Greenbase was established within the NEXCOM from endured the lash of the whip and plowed the hard earth, and it is worth mentioning that "from the establishment of the R&D team, the market and customer cooperation, the grassroots period coincided with the killing of the security control industry by mainland manufacturers in the red sea period, the industry environment is severe and difficult, through 10 years of ups and downs, thanks to the U.S. National Defense Authorization Act (NDAA) transfer effect, Greenbase has survived. Greenbase's main product line is a webcam with artificial intelligence (AI), which can be produced with different appearances and more than 20 internal specifications into different models according to the application, mostly for outdoor public surveillance systems, and is mainly positioned as a mid-to-high-end product line. 270 degrees plus 90 degrees down and four setting modes for multiple angles, so that there is no dead space for security surveillance. This is a high-end technology product line, suitable for urban, military border defense, seaport and other applications, from distributors to end users priced at more than $ 3,000.
Source:Yahoo News