Develop advanced technology based on information security New Han ahead of 5G deployment to promote diversified cooperation
Source:Digitimes
5G is regarded by market participants as the last piece of the puzzle for the implementation of new technologies such as AI and IoT. Through its features of large bandwidth, wide connectivity and low latency, it can realize the vision of intelligent industrial applications. NEXCOM is optimistic about the development potential of 5G and continues to deepen its technology research and development, and has already started the layout for the above three features.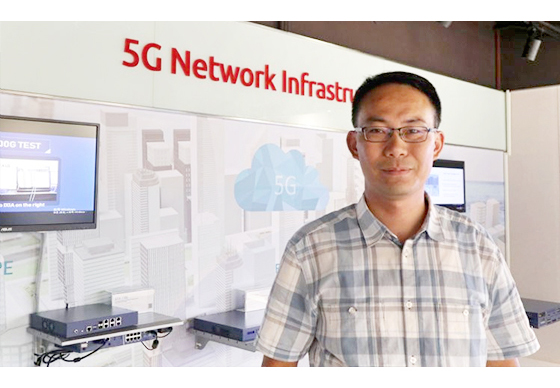 Mr. Liu Ying-cun, Director of Xinhan Network Communications Business Group, said
5G, with its high bandwidth, low latency and wide connectivity, will link various new technologies and enable intelligent systems to take root around our lives.
SHINHAN now has industry-leading software and hardware technologies.
According to the director of Hsinhan's Network Communications Group, starting from 2019, the US, China, and South Korea will start 5G negotiations one after another, and other countries including Taiwan will follow in 2020. However, most of the 5G technologies and products in the market now focus on performance. In this regard, Liu pointed out that network security is definitely one of the most important considerations for 5G networks to be widely used in any kind of industry.
Under the demand of 5G large bandwidth, the 5G core network has started to build 400G Ethernet Switch, and the network side of the server is moving towards 200G Ethernet network layout. Liu Ying-cun said Hsinhan's network communication R&D team continues to innovate and develop 200G network cards ahead of schedule, and is now in the late stage of R&D. If it enters mass production in Q4 as expected, it will be significantly ahead of other industry players.
5G's large bandwidth and high network speed features are mainly used for large data volume video and audio streaming, while low latency applications will be self-driving cars, smart manufacturing, and other areas with high real-time demand. For example, self-driving cars need to determine the people and objects outside the car in the first place and adjust the response quickly in the internal system, while manufacturing also has the same requirement. In this regard, Sinhan has developed a variety of network platforms for edge computing for different network applications and loads, which will enable enterprises to use edge computing platforms to make the whole environment more real-time and efficient.
Conventional CPE (Customer Premise Equipment) uses a physical bus design, so if the system upgrade in the field requires a change in the communication architecture, the original CPE must be replaced, which is not only costly, but also takes a lot of time to replace and configure the new equipment. uCPE (Universal Customer Premise Equipment) is a software-defined architecture. Premise Equipment) is a software-defined architecture, so if the manager needs to change the communication standard in the field, he only needs to change the settings from the remote interface. Liu pointed out that Sinhan invested in the research and development of uCPE three years ago and expects that the technology will be popular in the market by 2023, so Sinhan is ahead of schedule and has several PoC projects underway.
While developing uCPE, Sinhan also started to develop a more powerful next-generation enterprise product series, named NexCPE, which completely changed the previous practice of having to pull cables for communication infrastructure. The last mile of infrastructure from the old broadband network to the current FTTH (Fiber To The Home) has to be completed by physical cables, which takes time and costs a lot of money to build.
However, after entering the 5G era, the high speed wireless feature of 5G will solve the wiring problem. 5G Fixed Wireless Access (FWA) technology will support wireless transmission between two base stations instead of physical cables, which will change the communication infrastructure. The NexCPE will support the commercialization of this technology, as well as the integration of Wi-Fi 6, xDSL, fiber, PoE and Ethernet switches, and even the future 6G and 7G technologies.
In the second half of 2020, we will deploy a 5G campus network using SHINHAN's 5G-related network platform. In the future, depending on the effectiveness and application status, we will expand the application scope of our products. Liu said that 5G's high bandwidth, low latency and wide connectivity will link various new technologies and allow intelligent systems to take root in the surrounding areas of life.

The above report comes from:
https://www.digitimes.com.tw/iot/article.asp?cat=130&cat1=40&cat2=13&id=0000593008_T4A1FB43L0XMZD9ZALX9R